October 2020 Newsletter
Notes from the Editor
Hi all!
We at the Sustainable Development Division are revamping our newsletter to bring you more frequent and consistent updates at least every quarter (if not more frequently). Before we get to that, I wanted to highlight ways to get more closely connected with our group.
First, you can join us on Slack to get directly plugged in to our community. Introduce yourself, connect with the board, and share your interests! Click here to join (link expires on 11/5, but we will post more over time).
Second, if you'd like to get more directly involved in the group in activities like sharing information, organizing webinars and hangouts, or working with the board, contact us directly through Slack or email us at iisesdd@gmail.com.
Lastly, be on the lookout for future communications on upcoming events. We will have news on town halls and monthly virtual happy hours coming soon. Stay tuned!
Cheers! -DD
Congratulations and Welcome to our 2020 – 2021 Board
Read the bios for our board members
Call for Abstracts – 2021 IISE Annual Conference
Abstracts and 6-page papers are welcome to be submitted in the broad area of Sustainable Development with theoretical and practical applications of Industrial and Systems Engineering. Please take a look at the attachments for more information and deadlines. For questions, please contact the track chairs:
We hope you are safe and well. Thanks!
2020 Excellence in Sustainable Development Award Winner – City of Fort Collins
The City of Fort Collins in Colorado (USA) has been on a continuous improvement journey since 2010. They made great progress on their Income-Qualified Assistance Program (IQAP) to help residents pay their utility bills, and were recognized as the 2020 winners of the IISE Excellence in Sustainable Development Award. Related to the UN Sustainable Development Goals, Fort Collins' efforts helped impact Goal #10, Reduce inequality within and among countries.
Watch a video of an interview conducted by Brion Hurley of Peter Iengo and Jamie Gaskill explaining their journey here:
Recent Webinars and Interviews
Video Interview: Food Systems Projects Between Schools and Nonprofits from IISE SDD Webinar
Anuj Mittal and Brion Hurley had an interview with Jason Grimm (Iowa Valley RC&D) and Dave Adolfson (Dunwoody College of Technology) about partnering with students and nonprofits to improve the food systems in Iowa. Please check it out and share with others
Interview with UH Professor Brad Miller: Lean Six Sigma at Home and with Nonprofits
The Sustainable Development division conducted an interview with Brad Miller, a Senior Professor of Practice in the Bauer College of Business at the University of Houston. He shares his success with teaching students how to apply lean and Six Sigma methods in their homes and at their part-time jobs, including two projects that were done with local nonprofits. Please watch and share with others that might enjoy the video!
UN SDG of the Month – Reduce inequality within and among countries
By Brion Hurley
We want to highlight one of the UN Sustainable Development Goals in each newsletter. Let's start with Goal 10: Reduce inequality within and among countries, as this topic has become front and center in the United States, specifically around race.
I graduated from the University of Iowa, and their football team also made news this summer over racial inequity. It took me by surprise, as I assumed that sports were one of the organizations that have made the most progress towards equality. But what I learned this year is that there is still more work to be done in all aspects of our society.
To start moving towards more equality, we need to be able to state the inequity problem clearly, and measure how we're progressing.
These problems are not simple, and require our ISE skills to help teams bring stakeholders together and agree on what exactly is the gap that we need to close. That's not a simple task, and it is often skipped over. There is pressure to jump to solutions to show that something is being done.
Here are some metrics in our society that could be used to quantify the gap:
Representation in upper management and leadership positions
Access to healthcare
Traffic stops and searches
Criminal punishment
High school graduation rates
Wealth
Home ownership
ISE's can also help walk organizations through a systematic approach using data, observations, and interviews to arrive at likely long-term improvements, as well as track the progress to ensure that the improvements are successful.
Let's go back to the Iowa football program. How do you measure the racial inequity? I was able to find data that showed 42% of black athletes are not completing the program, compared to 58% of white and non-black athletes.
That sounds like a clear gap to me, and it is a statistically valid difference.
We'll know when the Iowa football culture has improved when these percentages are closer to each other (and hopefully both groups have higher success rates).
Learn more about UN SDG Goal 10 at https://www.un.org/sustainabledevelopment/inequality/
Sustainable Development Related Articles
Finding sustainability lessons half a world apart

Fashion startup, New Zealand farm put ideas in focus for Southern Cal ISE grad

High tech at a slow pace through the tree canopy

Slothbot is a slow-moving, energy-efficient and solar-powered robot which monitors temperature, weather, carbon dioxide levels and other information and their effect on the animals and plants in the 30-acre mid-town Atlanta greenspace

Reuse Organization Performance Metrics with Chris Pletcher

Do you work in the reuse industry or handle donations in your nonprofit or NGO? Or do you know someone who does? If so, check out this great interview Brion had with Chris Pletcher with Finger Lakes ReUse, Inc. in Ithaca, NY. He talks about how he manages the warehouse receiving operation to drive sales in the store, and how it drives the need to look at staffing levels, shelf organization, marketing, culling product and price changes.
Stay in touch!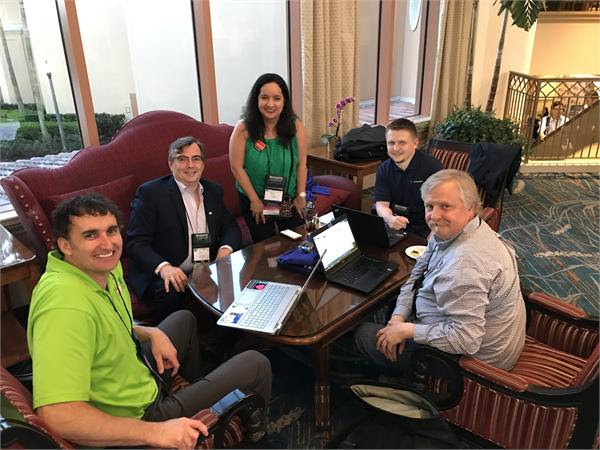 To connect with our growing IISE division, check out the links below…
Sustainable Development Division | SustainableEngineer.org
Email us at iisesdd@gmail.com
Join us on Slack (link expires 11/5, but don't worry, we'll update it regularly)